Club House
Bar & restaurant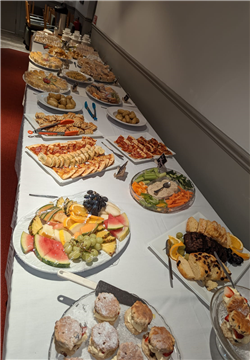 The clubhouse is a converted 19th century residence which offers comfortable, warming surroundings. Members and visitors are always welcome to come in, relax and enjoy the friendly atmosphere.
The lounge / bar has recently been refurbished (March 2021) and now offers a separate coffee lounge and restaurant area which can also be used as a private room for business meetings or for your golf society's evening meal.
The bar opens at 11am Mon - Fri and from 10am on a weekend with traditional golf fayre offered with a couple of meal options on a weekend.
Why not book the venue for your family celebration with the choice of a light finger buffet (from £10) to our hot food buffet (from £12)
Finger Buffet