Course Layout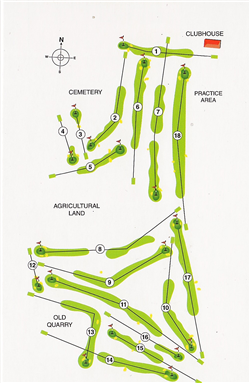 Boldon Golf Club Course layout

A par 4 to begin with running parallel with Dipe Lane followed by another par 4 dog leg around the adjacent churchyard. Two challenging par 3's follow both with green lower than the tee, these holes have seen a number of hole in one,s over 2018. A short climb to the 5th tee is rewarded with a panoramic view stretching from Tynemouth south to the Tees. The 6th returns towards the car park offering a quick 6 holes. The 7th is the first of two par 5's with an accurate second shot required to leave a short iron to the green. The 8th offers a challenge to take on or lay up short of the outcrop of rocks before playing your approach shot to the green. The last of the first 9 holes offers a reward for taking on the direct line to the green with a downhill approach to the green.

A par 4 starts the back 9 with a well guarded green with bunkers at either side. The 11th requires an accurate drive and a well positioned second shot will leave the green within reach. A par 3 adjacent to the road offers the golfers who can launch the ball over the tree in the fairway a great birdie opportunity. A dog leg par 4 with a narrow green has two options with the greater challenge to cut the corner. The views from the 14th tee include the new Wear bridge (Northern Spire) & the Stadium of Light, a two tear green requires an accurate approach shot to secure your par. Turning often into the prevailing wind, the short 15th gives an opportunity for two shots to be on the green. The homeward three holes begin with a par three and the 17th drops down to a level fairway which will require a good long iron or wood to reach the green. The final hole, a par 5 has a narrow entrance to the lower fairway and laying up gives a good two shots to reach the green.

After your enjoyable round call in for a bite to eat (11am - 3pm) and a drink where you will be welcomed by our friendly staff.