Tony Lister / Alyson Smith Club Captains 2023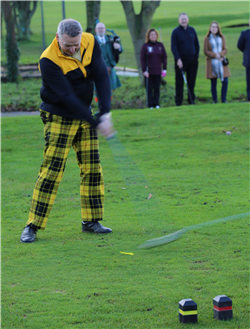 Tony Lister Club Captain 2023 What a great turnout by the members to witness our 2023
Captain's drive in. We couldn't have asked for better weather. Thank you all for sharing our special day. It's an honour and privilege to serve you as your Captain for 2023.
Alyson Smith Lady Captain 2023
I would like to thank you all for the support for the Captains drive in on New Years day, which was an emotional day.
I wish all fellow golfers and their families a happy and prosperous new year. I am truly honoured to hold the office of Lady Captain for the second year running and look forward to representing the Ladies of our club along with the valued support of our ladies committee and members.
There are many golfing events in the diary both home and away and looking forward to welcoming all our ladies to enjoy the forthcoming season.
Looking forward to working alongside our Captain Tony Lister and Vice, Gary Wright
Happy Golfing during 2023
The raffle for the hamper raised an amazing amount of £400 and was won by a visitor to the club on New Years Day.
This brings my total fundraising in excess of £2,000 for my nominated charity, Headlight.
Thank you for everyone's contributions and help in raising this sum during the year, much appreciated.
Alyson Smith
Lady Captain